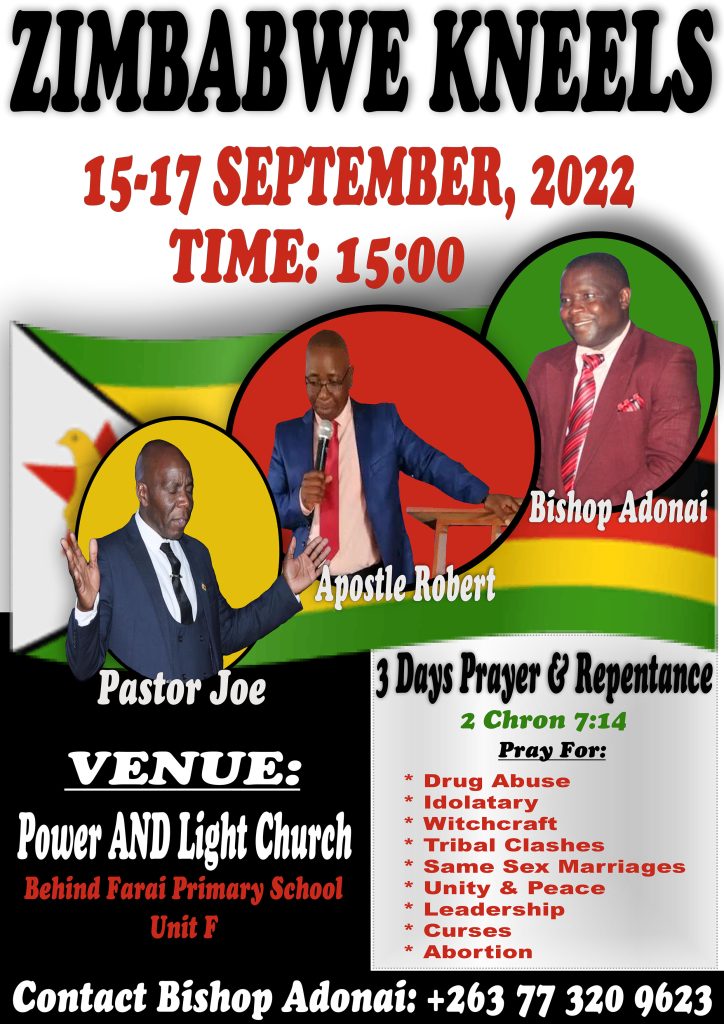 REPENTANCE & PRAYER POINTS FOR ZIMBABWE
Reconciliation and unity
Forgiveness - Dan 9
Country Leadership
Repentance
Healing
Witchcraft
Idolatry worship
Same sex marriages
Restoration
Declarations
Open doors of:
Righteousness
Justice to Reign over the nation of Zimbabwe .

Bind divisions and tribalism (Matt 18:18)
Arrows and Spears of Revival
Nullity & Reversal of ungodly covenants.
Scriptures we will be focusing on:
2 Chronicles 7:14
Psa 33:12
Matt 15:13
Psa 133:1
2 Cor 10:3
Eph 5:11-13
Psa 68 :1-2
2 Kings 6:12
Job 5
Isa 8:18-19
Luke 12:3
Photos and Feedback after the Zimbabwe Kneels Conference
Following feedback received from Bishop Adonai after the Conference:
Thank you for the prayers, support and guidance.

Thank you for the prayers and financial support and Spiritual oversight. I am privileged to report church activities of the month of Sept 2022.

ZIMBABWE KNEELS 15th – 17th of Sept 2022 we held prayer and fasting for three days from 15:00hrs – 18:00 hrs. Please see attached flier – we witnessed unity and the move of the Holy Spirit

FOOD HAMPERS, We bought 20 food groceries basics, sugar, rice and cooking oil for the 20 underprivileged families, 1 solar battery as well fixed the broken sound speakers.

SOULS – there are 25 souls won for the lord in the month of Sept, the attendance no are increasing since the doors of the churches hence the need of more chairs,

CHAIRS – Thank you so much for the support regarding the purchase of Thirty (30 x $5 each) plastic chairs in the month of September, our target 150 chairs by December 2022,

VEGITABLES. We have planted vegetables and maize corn at the church premises to help supplement food requirements to our less privileged members, the previous rain season therefore many have basic food needs. The germination is encouraging we are using buckets to fetch the water from the well, thank you for making this possible.

GRADUATION

My eldest daughter Sandra completed her Bsc Hon Social Work at university with a distinction, we are very grateful and appreciate all you hard work and support during the past 5 years. The official graduation date by the president of our Republic 25 November 2022.

Thank you

Yours faithfully,

Bishop Adonai
Below are some Photos during the conference...etc..
May God continue to Bless Zimbabwe..!!!