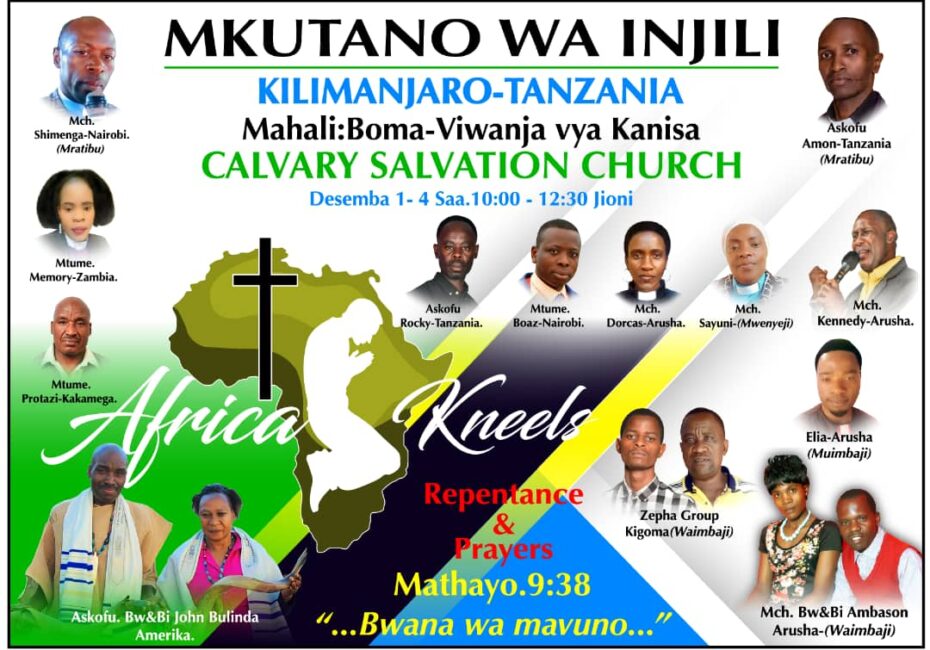 TANZANIA KNEELS - At Mount Kilimanjaro
Tanzania is about to host their first REPENTANCE and PRAYER Event for the LORD at Mount Kilimanjaro - on the Border between Kenya and Tanzania
FROM:
Thursday December 1st to Sunday December 4th,2022

Song 2:4 He brought me to the banqueting house, and his banner over me was love.
Bishop Amon Mahwa (from Tanzania), together with Ps Antony Shimenga Muyeka (From Kenya) who have been involved in almost all of the Africa Kneels events this year, are on their way to Mount Kilimanjaro - at the Boma-Curch Grounds of Calvary Salvation Church.
Here they will have daily events from Thursday Morning December 1st to Sunday December 4th, Praying, interceding and REPENTING for Tanzania...
They are planning to focus especially on breaking the Power of Witchcraft in the area and on the mountain... even claiming Mount Kilimanjaro (the Highest Peak in Africa) for JESUS - Raising His Banner of LOVE on the Mountain - and in so doing, also CLAIM AFRICA for JESUS, through RESTORING the Altar of God: According to 1 Kings 18:30-39 "...And Elijah said unto all the people, Come near unto me. And all the people came near unto him. And he repaired the altar of the LORD that was broken down.... "
These events are all based on God's Solution as per 2 Chron 7:13-14, Repenting and sincerely Seeking God's Face for our country and our continent - AFRICA - as we can see that it is time for God to move, and bring Revival, and we do not want Him to move past our country nor our nation or our continent - We want to see that All His People must be saved:
2 Chron 7:14: If my people, which are called by my name, shall humble themselves, and pray, and seek my face, and turn from their wicked ways; then will I hear from heaven, and will forgive their sin, and will heal their land.
---
We will give you feedback as we progress throughout the week - with Photos etc, of what is happening in in Tanzania...
Please join us this week, Praying & Repenting for Tanzania, and also interceding for every Pastor, Bishop, Prophet that will be at these meetings, pray for their Protection, and for the Holy Spirit to answer their call, and to follow with signs, miracles and wonders !!
And also please join us via Zoom - on Thursday December 1st for a short call from 6pm to 6:45pm Central Africa time - Details are on our ABOUT Page
May God Bless TANZANIA and AFRICA!!!
Hallelu'Yah !!
REPENTANCE & PRAYER POINTS FOR TANZANIA
First REPENT for yourself, then for TANZANIA and then for the Rest of Africa - that many will heed the move of the Holy Spirit and confess that:
We have not always placed the Living God FIRST in our lives
We have not fully protected the most vulnerable, including children in the womb
We have created idols, including pride in ourselves, our agendas, our families, our financial status
We have sanctioned sexual perversions, instead of seeing them in His eyes as sinful and capable of being removed by the Holy Spirit
We have failed to follow His destiny for the citizens of our Nation to act as His city set on a hill, a light to the world.
Then PRAY for TANZANIA:
Pray that having confessed these personal and collective sins, many will also repent so that He will hear from heaven, forgive sins and heal our land.
Pray that intercessors from many nations will join in these Days of Repentance and in future Days of Repentance, repenting themselves, and then praying as the Holy Spirit directs for Africa and all the Nations
And also pray for the Financial Budget for these events, that every expense will be covered, and that they will be able to spread the news via the television and other News Media as well..
---
PHOTOS and FEEDBACK During the Week of December 1st to December 4th
Here we will give you regular feedback every day, as the meetings Progress, as well as display some photos etc...
And further below we will also list some of the videos taken during the time...
Leading up to December 1st:
Please pray for everyone travelling to the venue, as there is a lot of finances, planning and organizing involved, in order to make this event a success.
Here are some of the first photos that came through already from Bishop Amon, on his way to Mount Kilimanjaro....as well as a video of everyone getting ready to leave..
December 1st:
Today the preparations for the crusade this afternoon has been put in place, a Stage has been put together, and the first crusade was lead in by Missionary Protas. See below for more Photos and Videos of today.
December 2nd:
Today Bishop Joseph Kazembe from OUT Youth in Malawi was ministering, and sharing about OUT Youth, and what is planned for Tanzania's Youth, and how to reach them for Jesus..
As this whole week-end Bishop Joseph will be speaking to the leaders, and ministering to the Youth of Tanzania.
You can see more photos below...as well as some short video clips from his messages he shared during the day...
Saturday - December 3rd:
Today is the day that we were waiting for !!!
Today we want to RAISE that BANNER of HIS LOVE Over Mount Kilimanjaro, Anoint the Area, and Raise an Altar for God, Repenting and abolishing the wicked works of the eny through witchcraft in the area...
and through all this also CLAIM the Mountain for God, and in so doing also claim AFRICA for JESUS !!
The service was lead by Bishop John Bulinda from his place in Washington through many Prophetic Declarations and Speaking Prophetically over the area, Blowing the Shofar..., and Ps Antony was translating. You can watch the full service here on Facebook, as well as everything that occurred afterwards, until we closed for the evening...
You can also watch here on Facebook - an introduction from Ps Antony from Kenya, of what is planned for today and what has been happening in and around the area prior to the start of today's crusade.
Between yesterday and today, a few ladies from the Islamic faith, also came for prayer, and wanted to convert and accepted Jesus as their Lord and Savior, as they could see the Power and presence of the Lord, and wanted to be a part of this move.
We give God all the Praise for what is happening here, and for saving everyone this weekend, changing & touching lives in ways they never experienced before !!
Sunday December 4th:
Today is the last day of the crusade - and we only have 1 morning service planned. If I can use the words from our Technical guy on the ground "It is hot but Serene..."
It was a powerful service, people received healing, and some people even received deliverance.. The attendance has increased today, and everyone experienced God's presence while praying and repenting for Tanzania today, and also repenting for their own sins...
You can watch the full service here from Facebook...
---
For a Repentance event like this for the First Time in this area of Tanzania, we can truly say God has moved greatly in the area, and we believe that this crusade has definitely made an impact, and brought huge change and lots of HOPE in the area..
We pray for everyone's safe return back home...
And we want to thank everyone that was involved in this crusade this weekend:
Our Host Pst Sayuni, Bishop Amoni Mahwa both from Tanzania,
Missionary Protas Bulinda, Ps Antony Muyeka Shimenga both from Kenya together with their team helping them with all the technical things...,
And also Bishop Joseph Kazembe from Malawi together with his team from OUT youth,
and then also we want to thank Bishop John Bulinda from Washington for his input, message and support,
as well as Ps Jeff Daly from California for his support and prayers.
And last but not least the rest of the Greater Africa Kneels team for all your prayers and support and messages of encouragement.
We trust God will continue to move, even after we leave, and that we will continue to receive more and more testimonies of people being healed and saved and delivered in the weeks to come...
But be sure, this isn't the only crusade, there are more coming in the new year..
Please keep an eye open on our website, of what the plans will be in the new year..!!
---
More Videos can also be seen on FB...
We do apologize for the quality for some of the videos - as it was early evening when these were taken..
May God Bless Tanzania !!
---
Please consider Making a Donation for Tanzania Kneels
And as our Blessing and Thanks to you for any donation, we will send you our current E-Book "AMERICA KNEELS - A GOD SOLUTION"