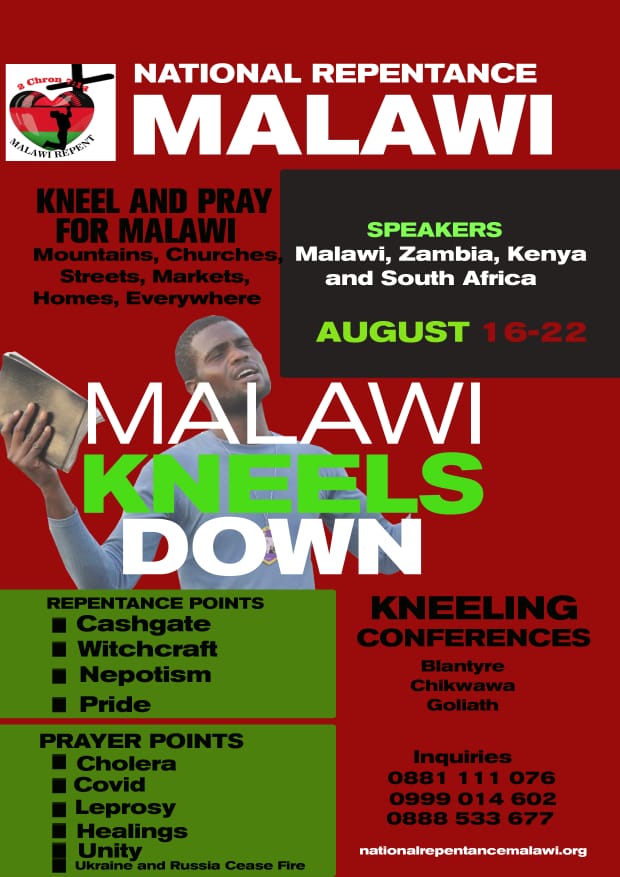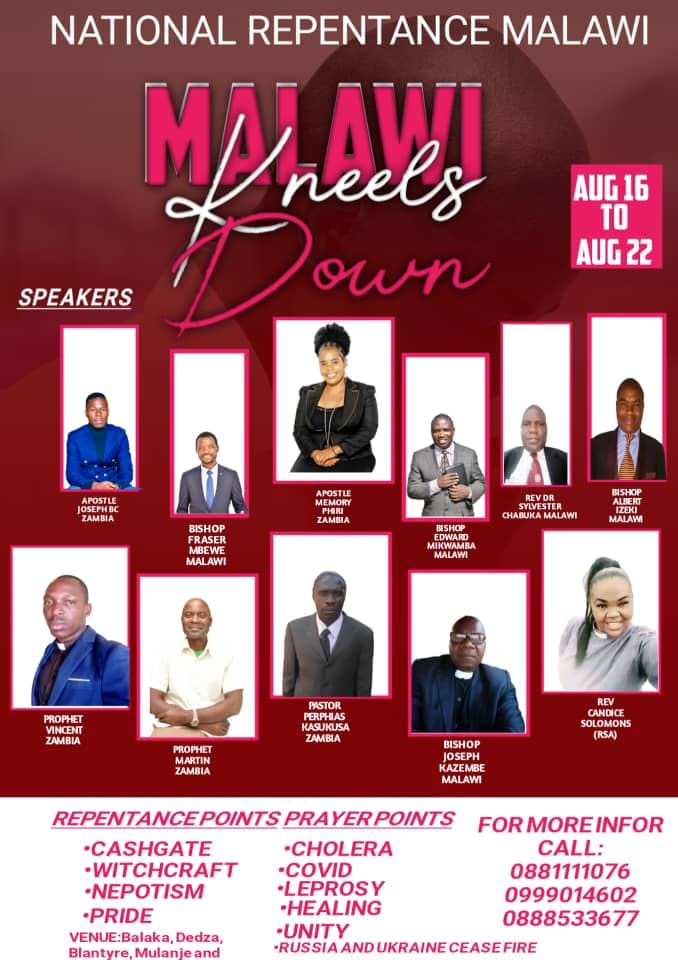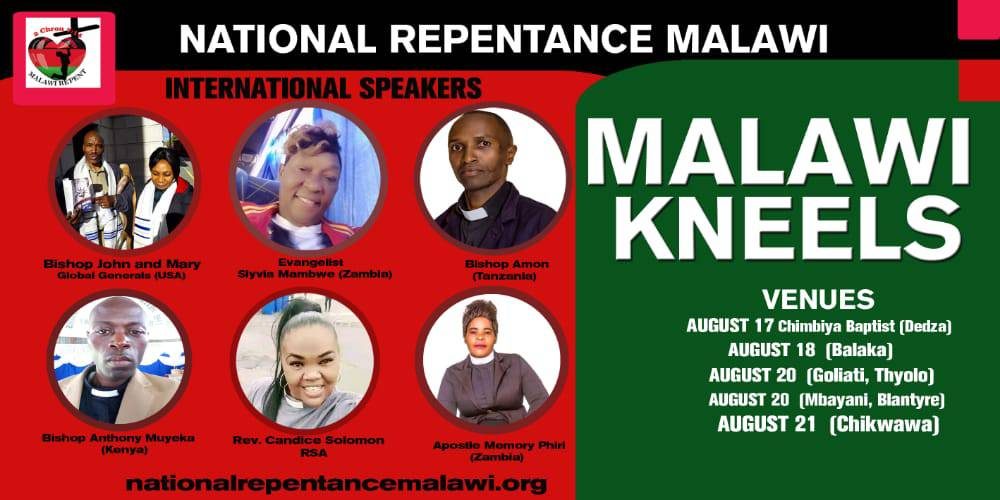 MALAWI KNEELS
Greetings in Jesus name from National Repentance Malawi
We appreciate GOD that Pastor Jeff Daly and International Day of Repentance Ministry is playing a vital role in the healing and restoration of our Nations according to 2 Chronicles 7:14
The war in Ukraine, the shootings in USA, and Elections in Kenya needed America Kneels as well as Kenya kneels
We thank Yeshua for a great program in Kenya by Africa Kneels team, this past week-end June 30th to July 3rd..!!!
Malawi has been rocked by economic challenges
Yes, we understand that things are not okay globally with the post covid challenges as well as the war between Russia and Ukraine that has affected the economy including Green Bank note!
In Malawi it has been worse, our currency has been devalued by 25 percent and another 25 percent devaluation looming. Inflation is now getting to 20 percent
Corruption is worsening as one who steal billions of kwacha is given bail within two hours and one who steals a chicken stays in a cooler for years
The devaluation of our currency has made things to rise on a daily basis pressing the poor further to the core. people have lost hope.
We have seen Tonse Alliance partners fighting for power within two tears after they won in presidential rerun
Some bread winners are committing suicide considering that they can not cope with the recent economic hyper inflation
Witchcraft is on the increase as some think its a solution to the Malawi economic challenges
Church leaders are competing each other and fighting for prosperity
Cholera outbreak after rainy season continues to claim more lives after COVID 19. Leprosy has resurfaced in Salima District
Commercial sex workers in quotes are throwing their new babies to die in the cold.
5 cyclones back to back in the rainy season claimed scores of lives and left people homeless.
We are calling for a Malawi Kneels Conference
In this regard upon hearing from the Holy Spirit and under Dear Pastor Jeff Nash Daly's guidance, we are calling for a Malawi Kneels conference where over 5,000,000 out of 20,000,000 people are going to kneel for Malawi for its healing and restoration
5 REPENTANCE AND PRAYER CONFERENCES
From August 16-22, the National Repentance Malawi team under the support of National Day of Repentance, Global Day of Repentance and the Africa Kneels team we will do Lord Willing, 5 repentance and prayer conferences for the restoration of Malawi in:
Blantyre,
Balaka,
Mulanje close to Mozambique,
Dedza,
Chikwawa and
Lilongwe
PUBLICITY
It is a major event within our project..!!
Every week we will be revising our poster on Malawi kneels to implore more intercessors to be part of Us. This is part of ACTS 6:3 team
We have recorded messages on the State Television for free and they will be airing every week if the Producers keep on supporting Us
We will also be featured on Malawi 24 News online where one million people read our story on Malawi News and other stations
We will have handbills to place in markets, hospitals, schools, streets and churches. Out of these 300 have been sent already
We will be talking to radio stations
We're also planning to live stream the event on Facebook platform
Planning to do zoom meetings under the support of Pastor Jeff, Susan Hammer and Kenyan and Malawi guys
Setting up of a WhatsApp Malawi group on Malawi kneels. Should you wish to join this group, please contact me for more information...
We are planning on:
Reaching ex prisoners with repentance messages
Training church leaders on repentance
KIDS ministry
Dumpsite ministry
Literature evangelism where we will distribute salvation tracts to over 100,000 Malawians to know Jesus!!
SPEAKERS
Our Speakers will be coming from:
Zambia,
Malawi ,
South Africa and
Kenya
Some will be in Person, and one or two will be via Zoom...
---
We are trusting God for many helpers in the different areas, and also for finances to support this vision, to manage all the technology, printing of posters and flyers, transport costs, accommodation cost, etc..
If you want to contribute towards this vision, you are welcome to make a donation to the National Day of Repentance Ministry, mentioning it is for Malawi Kneels
GOD Bless you ALL and thanks for the support.
May God Bless Malawi !!
Bishop Edward Mikwamba and team
Luke 8:3, Mathew 28, 2 chronicles 7 v 14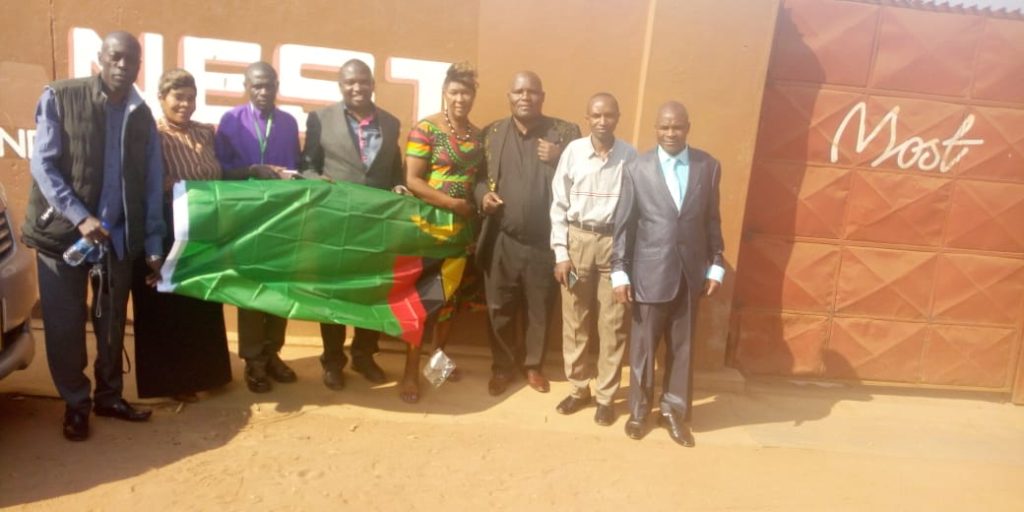 Feedback from the First 2 days of Malawi Kneels
A LOT has been happening in Malawi in preparation leading up to the Malawi Kneels events.
And the hard work has paid off, people are attending the meetings, and many are kneeling and praying and repenting before the Lord. Meetings has been held in Lilongwe and Dedza thus far this week, and the team - consisting of Bishop Edward, Bishop Joseph, Bishop Albert, Bishop Sylvester & Prophet Kasukusa from Malawi and joined with them Ps Antony from Kenya, Bishop Amoni from Tanzania, Ps Sylvia & Ps Memory from Zambia - have ministered and lead people in individual & National Repentance Prayers for Malawi first, but also for the rest of Africa.
There has also been Children's Ministry this week..!!
And everyone is blessed, and touched, and the JOY of the Lord can be felt all through the airwaves - and through out Social Media..
Below are some of the Photos, and Videos to see who they are...and so you can join in of the excitement...
MAY GOD BLESS MALAWI !!!