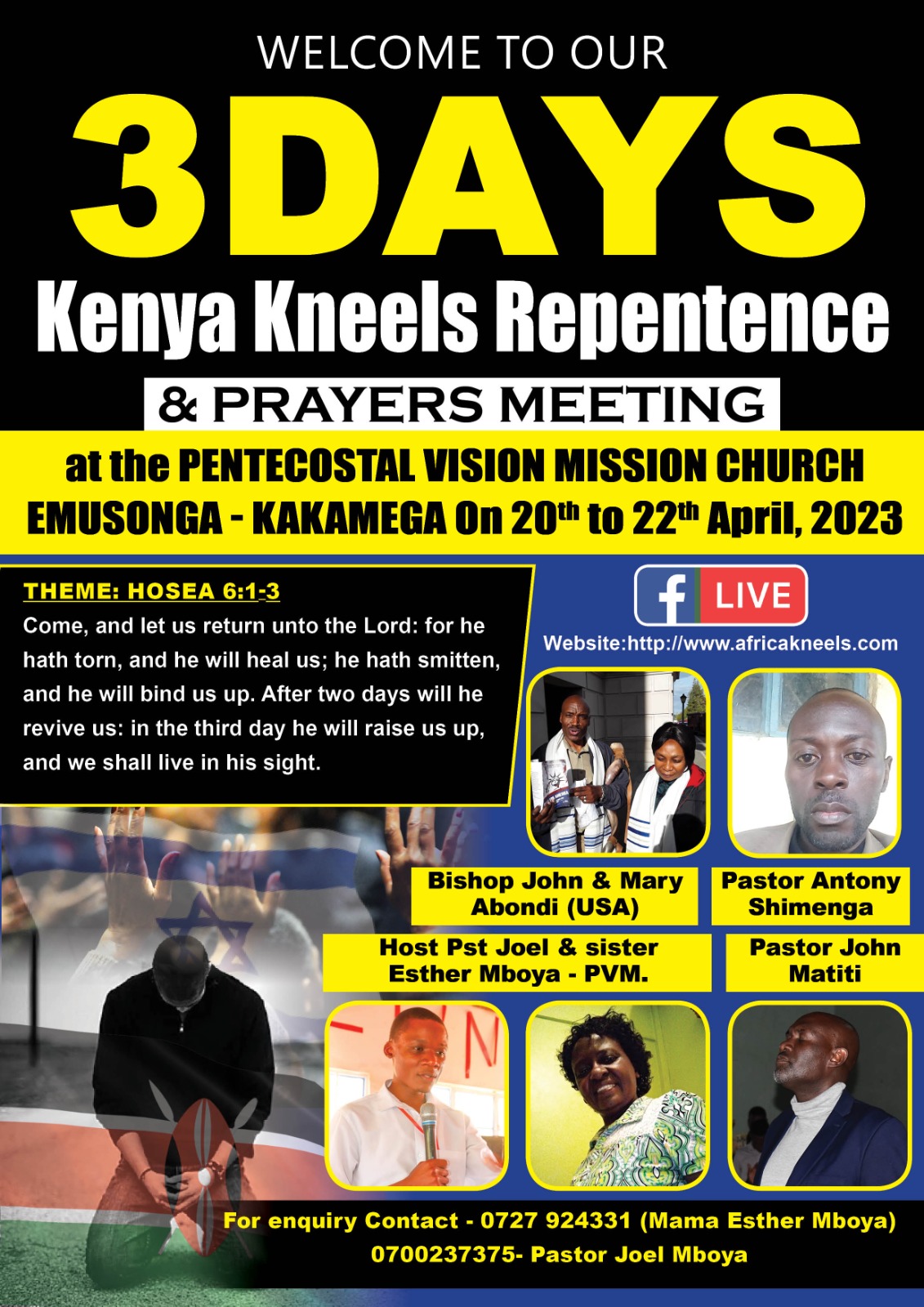 KAKAMEGA - KENYA
To Arrange a
KENYA KNEELS REPENTANCE and PRAYER Event for the LORD in Kenya
FROM:
Thursday April 20th - Saturday April 22nd, 2023!!!
Bishop John Abondi last week after a 3 days prayers and fasting, was commanded to hold a repentance prayer meeting in Kakamega Kenya and this burden was shared with Ps Antony Muyeka together with Ps Joel & Sister Esther Mboya from Emusonga - Kakamega, who undertook an urgent 3 Days Kenya Kneels Repentance and Prayer time to offensively attack all our enemies Globally and their altars of Defiance and Rebellion against our Lord Jesus Christ... believing in God's Solution as per 2 Cor 10:3-6...
2Cor 10:3-6 For though we walk in the flesh, we do not war after the flesh; (For the weapons of our warfare are not carnal, but mighty through God to the PULLING DOWN OF STRONGHOLDS;) Casting down imaginations, and every high thing that exalts itself against the knowledge of God, and bringing into captivity every thought to the obedience of Christ; And having in readiness to revenge all DISOBEDIENCE, when your obedience is fulfilled.
The Theme for this conference is coming from Hosea 6:1-3:
---
Hosea 6:1-3 Come, and let us return [in repentance] to the LORD: for He has torn, and He will heal us; He has smitten, and He will bind us up.
After two days will He revive us: in the third day He will raise us up, and we shall live in his sight.
Then shall we know, if we follow on to know the LORD: His going forth is prepared as the morning; and He shall come unto us [in salvation] as the rain, as the latter and former rain unto the earth.
---
We must step out as the BODY OF CHRIST and take action without further delays. The LORD is calling us to Arise and Shine for our light has come. There is deep spiritual darkness covering the earth and gross darkness the people; but the LORD shall arise upon His Bride, the Ecclesia and His glory shall be seen upon us (Isaiah 60:1-2);
BUT WE MUST STEP OUT BOLDLY AND IN ONE ACCORD..!
Thus, we invite you, please join Ps Antony Ps Joel and Sister Esther and the rest of the Kenya Kneels team during this time of Prayer and Repentance, and if you can, come and visit them during this conference, praying with them, and Repenting for Kenya and the Rest of Africa, for God to Heal the land as well as the Continent of Africa !!
MAY GOD HEAL KENYA & AFRICA !!
THE PREVIOUS KENYA KNEELS EVENTS
October 4th-9th 2022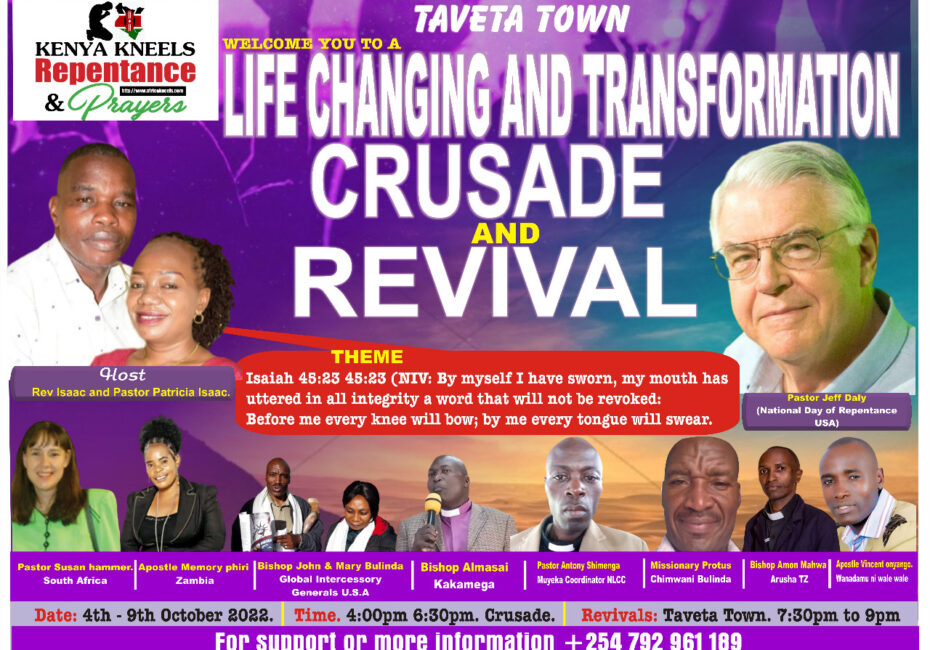 TAVETA - KENYA
To Also Arrange a
KENYA KNEELS REPENTANCE and PRAYER Event for the LORD in Kenya
FROM:
Tuesday October 4th - Sunday October 9th, 2022!!!
Ps Isaac Isika from Taita - Taveta County in Kenya, has requested and invited the Kenya Kneels team, to join him for a time of Prayer and Repentance for Taveta in Kenya - believing in God's Solution as per 2 Chron 7:14...
2Chron 7:13-15 If I shut up heaven that there be no rain, or if I command the locusts to devour the land, or if I send pestilence among my people;
If my people, which are called by my name, shall humble themselves, and pray, and seek my face, and turn from their wicked ways; then will I hear from heaven, and will forgive their sin, and will heal their land.
Now mine eyes shall be open, and mine ears attent unto the prayer that is made in this place.
Ps Isaac and his team will also be joined by Apostle Memory Phiri from Zambia and Bishop Amon Mahwa from Tanzania, during the week of Tuesday October 4th till Sunday October 9th, going from Door-to-Door every morning - between 9:30am to 1pm, praying for people, and inviting them to the crusade planned for the afternoons between 4pm to 6:30pm..
And with just a short break afterwards - they are planning from about 7pm till 9:00pm or beyond, depending on how the Holy spirit will lead them each day, they will be praying specifically for Revival in Taita-Taveta and Kenya, as well as the rest of Africa, Repenting for the sins of Taita-Taveta, Kenya and the rest of Africa - and also praying for the people that are attending the crusade to be healed, set free and delivered, and giving them a chance to make their lives right with the Lord..!!
Some of the other speakers will be joining them during this time via Zoom.
More information on the Zoom details and the relevant speaker(s) will be released closer to the time..
---
AND: We believe that it is by no accident that this event is also coinciding with the Day of Atonement Feast (Yom-Kippur) also starting on October 4th, 2022 !!
The Day of Atonement (a time to afflict your soul)
Lev 23:26-32 And the LORD spake unto Moses, saying, Also on the tenth day of this seventh month there shall be a day of atonement: it shall be an holy convocation unto you; and ye shall afflict your souls, and offer an offering made by fire unto the LORD.
And ye shall do no work in that same day: for it is a day of atonement, to make an atonement for you before the LORD your God.
For whatsoever soul it be that shall not be afflicted in that same day, he shall be cut off from among his people.
And whatsoever soul it be that doeth any work in that same day, the same soul will I destroy from among his people.
Ye shall do no manner of work: it shall be a statute for ever throughout your generations in all your dwellings.
It shall be unto you a sabbath of rest, and ye shall afflict your souls: in the ninth day of the month at even, from even unto even, shall ye celebrate your sabbath.
---
Thus, we invite you, please join Ps Isaac and the Kenya Kneels team during this time of Prayer and Repentance, and if you can, come and visit them during the Crusade, praying with them, and Repenting for Kenya and the Rest of Africa, for God to Heal the land as well as the Continent of Africa !!
MAY GOD HEAL KENYA & AFRICA !!
Photos and Feedback after the Taveta-Kenya Kneels Crusade
BUILD-UP
The excitement continues to build up of what God is doing in Africa through Repentance. Calling all people to come back to Him, and lay down their old ("wicked") ways, and KNEEL/BOW before Him, and seek Him with their whole heart (2 Chron 7:14 - paraphrased)
Since the first Kenya Kneels event in Kakamega beginning of July, 2022, this has been building up to today, through Uganda & Malawi having their respective Uganda & Malawi Kneels events in August, followed by Zimbabwe Kneels in September...
And now - we are in the midst of another Kenya Kneels Event - but this time in Taita-Taveta County.
And a lot of preparation has been going into the planning and preparation for this week's Crusades...
The Faith Evangelical Free Church in Taveta under Apostle Isaac Isika has been setup and prepared for this week, a new platform has been built for the Crusade, a Sound system has been hired for this week, Approval had to be requested from the Taita-Taveta County Town Administration to hold these Open Air Crusades in the Taveta Bus Park, and accommodation had to be arranged for all the pastors and workers coming from all over Kenya, as well as Tanzania & Zambia, and last but not least, T-Shirts had to be designed and printed for everyone working / Preaching this week...
It has been quite a busy time these past few weeks. But Today we can say that God has provided for everything, and all the plans etc has come together, and the events have started and is underway !!
DAY 1 - Tuesday
Although Tuesday started with some opposition from the Islamic representatives, trying to request the OCPD to stop this even from happening.
BUT GOD Prevailed, and the meeting has been approved...!!
Then the New Platform had to be moved to the Bus Park, and setup for the Crusade starting at 4pm this afternoon.
The team worked hard, and all was done around 1pm.
And the 1st Crusade session started at 4pm - running through to about 7pm.
And today 9 people from all different ages came to the Lord and gave their hearts to Him again..
And we Give God all the Glory for these salvations.
We are seeing this 9 as symbolic that something new has been birthed in Taveta, and that God is going to do GREAT Things in Taveta still !!
You can see some photos and videos below from Day 1...
DAY 2 - Wednesday
Today the pastors and ushers from Tanzania and Missionary Protas and his wife Jane from Kenya also joined the team.
To close the day - there were 15 more Salvations recorded today !!!
Hallelu'Yah !!
DAY 3 - Thursday
Today was the day everyone wore their Kenya Kneels T-Shirts - and what a Powerful presence they brought on the Ground..
You can even watch some of the Live streaming on Ps Isaac's FB Page, of what happened today...
The preaching was powerful and the people are coming to listen. Even the Kids love the worship time... You can see it all on the video link above..
More information to follow a bit later...
DAY 4 - Friday
Today the pastors from Tanzania ministered, and brought the message for the day. There were lots of activity on the ground, as more and more pastors are joining from all over.
Ps Antony will also be travelling during the night to be at the venue tomorrow morning
DAY 5 - Saturday
Ps Antony and a number of other pastors all joined Ps Isaac and his team in Taveta this morning, being a house full of people, all sharing, fellowshipping and talking about the things that God is doing in Kenya this week..
This afternoon as part of the Crusade, first Missionary Protas Bulinda ministered a word, and then his twin Brother Bishop John Bulinda all the way from Washington, ministered a message, and consecrated the area as an Altar for God, to serve as a memorial and a reminder for everyone, that God is in their midst, and that He will move and work in Taveta...
After the crusade everyone gathered at Ps Isaac's church where he then also shared a message with them, and they prayed together for Taveta, Kenya and Africa and for the Fire of Revival to continue to spread in Taveta and the rest of Kenya.
DAY 6 - Sunday
Today is the last day of the Crusade.
But instead of gathering at the Podium, everyone attended church this morning at Ps Isaac's Faith Evangelical Free Church, where Ps Antony from Kakamega brought the message and served communion. And the church was filled to capacity, many new visitors attended the service today.
Afterwards, Ps Antony also did an Altar Call, and 6 more people have dedicated their lives to the Lord, giving us a total of 30 Recorded Salvations for the crusade..!!
And after the service 5 people also indicated that they wanted to be baptised. Thus Ps Antony and Missionary Protas went to the nearby river, where they then baptized the 5, and dedicated and thank God for the Fruits of this Kenya Kneels Repentance Ministry since the first event has been held in Kakamega Beginning of July 2022.
Please pray for every Pastor and every person in the area, to receive a special anointing and Blessing from the Lord, and so that all to see that God do love them, and wants to meet and Dine with them...!!
And also pray that this crusade will continue to make an impact in the area, even after today !!
We will keep you posted with all the testimonies that we receive afterwards...
---
THUS: Please pray for Ps Isaac Isika and the team of pastors and ushers from Kenya as well as Tanzania, that have all joined him in this crusade...
Please pray for them to be strengthened in the inner man - in their Faith, and Trust in the Lord, and that their prayers will be answered, and that Taita-Taveta will be saved as a county...that more and more people will come to the Lord in their masses...and not just walk past it all anymore, but will actually HEAR the WORD being preached, and shared, and may it grab them at the heart, calling them to lay down their lives for the Lord, Repenting of all their witchcraft and idolatry, and all kinds of other religious practices which isn't according to the Will or Word of God at all, and that is keeping them in bondage, and they don't even know it...!!
And lastly, please pray for the financial burden to be lifted, and that Sponsors will come forward, and that the finances will come in, and that all debt will be covered and paid.
With God, nothing is impossible...for where 2 or more agree on earth concerning anything, our Lord promised in Mat 18:17-19, that His Father will let it come to pass!!
So please stand with us all, and let's put our TRUST and our HOPE & FAITH in Him alone to do a Miraculous work in Taveta..!!
AMEN !!
Below are some photos and videos from the past few days as well as the 1st three days of the crusade thus far, in no particular order...
Hallelu'YAH !!
MAY GOD BLESS TAVETA !!!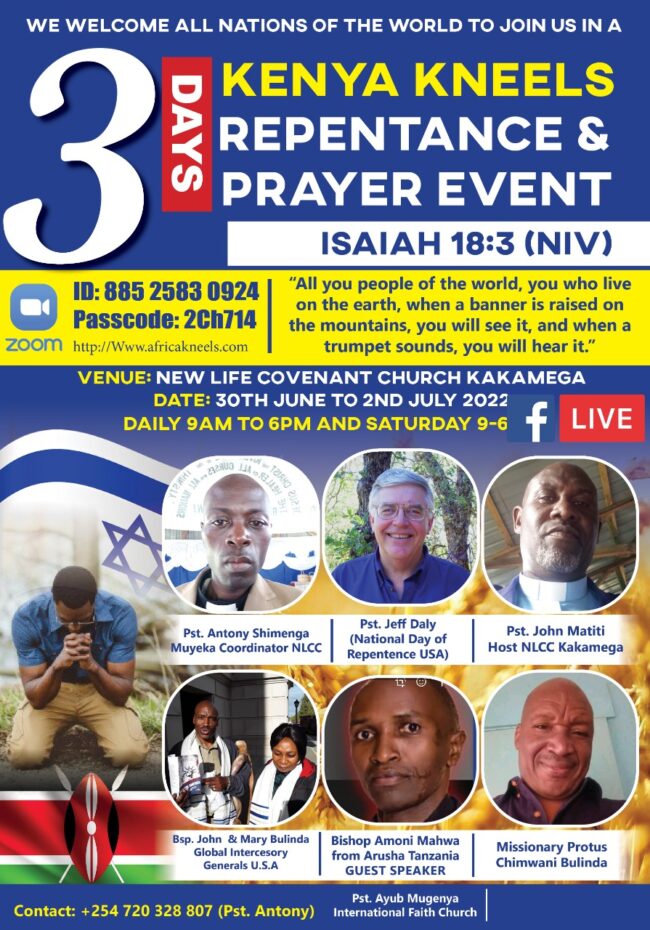 During the 3 Days KENYA KNEELS REPENTANCE and PRAYER the LORD is calling upon All the people of the World and dwellers of the Earth to See the BANNER and hear the sound of the TRUMPET:
"All you people of the world, you who live on the earth, when a BANNER is raised on the mountains, you will see it, and when a TRUMPET sounds, you will hear it." Isaiah 18:3
In the past 8 years, I have (with Kenya, Malawi, Zambia and many different nations), joined Pastor Jeff Daly, Founder of National Day of Repentance, California, USA, and Warwick Marsh, Founder of National Day of Prayer and Fasting, Australia, to REPENT and PRAY for the United States to turn back to Godliness because "Righteousness exalts a nation, but sin is a reproach to any people." (Proverbs 14:34).
It is high time to lift the Continent of Africa and all its 55 Nations to Jeremiah 6:16 which says "This is what the LORD says: 'Stand at the crossroads and look; as for the ancient paths, ask where the good way is, and walk in it, and you will find rest for your souls." This we hope to do under AFRICA KNEELS Banner and thus fulfill Isaiah 18:3 "All you people of the world, you who live on the earth, when a BANNER is raised on the mountains, you will see it, and when a TRUMPET (Shofar) sounds, you will hear it."
This year, with the help of Religious leaders & Faithful friend of National Day of Repentance USA, Pastor Jeff Daly, under the banner of AFRICA KNEELS we are endeavoring to WORK TOGETHER in UNITY, in planning a three days (June 30 - July 2, 2022) REPENTANCE and PRAYER Call in my home country, Kenya: "KENYA KNEELS REPENTANCE & PRAYER EVENT."
Like our sister nation Nigeria did during their National Day of Prayer of REPENTANCE, in February 2021, We are determined and calling upon KENYA to turn back to God through REPENTANCE for the ills that have been committed by both Religious and Government leaders and to PRAY for Restoration of LOVE among people of different Tribes and Ethnic groups.
We need to Teach Diversity especially among our Youth, since diversity isn't just about gender or race, it's also about diversity of background and mindset. By doing this, we will be fulfilling the Lord's two great commandments: "You shall love the Lord your God with all your heart, and with all your soul, and with all your mind. This is the great and foremost commandment. The second is like it, You shall love your neighbor as yourself." Matthew 22:37-39.''
This we believe will be followed by MALAWI KNEELS, ZAMBIA KNEELS and hopefully the entire 55 Nations of Africa will KNEEL under the "AFRICA KNEELS" Banner that we are raising at this moment in time.
For Corruption and Nepotism is very rife in most of our African nations and nations of the world and we must lean upon God to fight this enemy working behind the scenes, in order for all our agendas for Development and Progress to be fruitful. Our Prayers to the LORD are not in vain especially when Repentance is pivotal.
Many have thought Kenya has become a "Christian" nation, but by many standards it is not..!
Corruption must be and will be broken up, when we Repent and Humble ourselves before the LORD in line with 2 Chronicles 7:14 "If My people, who are called by my name, will HUMBLE themselves and PRAY and SEEK My face and TURN from their wicked ways, then I will HEAR from heaven, and I will FORGIVE their sin and I will HEAL their land."
In the AFRICA KNEELS wake up call, we see a place in the grand scene of God's creation an ultimate eternal plan where the Great Commission is fully understood and dutifully carried out to the letter, compelled by the Holy Spirit of God through the GIFT OF REPENTANCE.
In APPLYING the gift of repentance, our Eternal Father will remove the darkness that is covering all nations:
"On this mountain the LORD of hosts will make for all peoples a feast of rich food, a feast of well-aged WINE, of rich food full of marrow, of aged WINE well refined. And He will swallow up on this mountain the covering that is cast over all peoples, the veil that is spread over all nations." Isaiah 25:6-7 ESV.
This concurs with Isaiah 9:2-7:
The people who walked in darkness have seen a great light; those who dwelt in a land of deep darkness, on them a light has shined. Thou hast multiplied the nation, thou hast increased its joy; they rejoice before thee as with the joy at the harvest, as men rejoice when they divide the spoil. For the yoke of his burden, and the staff for his shoulder, the rod of his oppressor, thou hast broken as on the day of Midian. For every boot of the tramping WARRIOR in battle tumult and every garment rolled in blood will be burned as fuel for fire. For to us a child is born, to us a son is given; and the government will be upon his shoulder, and his name will be called "Wonderful Counselor, Mighty God, Everlasting Father, Prince of Peace." Of the increase of his government and peace there will be no end, upon the throne of David, and over his KINGDOM, to establish it, and to uphold it with justice and with righteousness from this time forth and forevermore. The zeal of the LORD of hosts will do this."
Pastor Jeff Daly in one of his recent Repentance articles, articulated very well the astounding growth of evil (Lawlessness) in our Day as manifested here below:
Rioting in the streets (anarchists, leftists, post-panthers, neo-Nazis, etc)
The total collapse of biblical ethics in foundational Family areas (marriage covenants, sexual ethics, abortion and practices that the Bible never even got around to describing, abominations)
The mushrooming growth of corporate fascism joined to pervasive propagandist media.
The corruption of formerly trustworthy social pillars in the political, medical, and media spheres, leading to unprecedented social control and manipulation.
The worldwide spread of economic slavery, something forcefully condemned by both the Hebrew prophets and even by Bob Dylan in his 'Union Sundown'.
The swelling power of totalitarianism through thought manipulation, personal identity tracking, and civil liberty curtailment, Brave New World, and modern China's QR code systems.
The burgeoning geopolitical power grabs of resurgent Communist superpowers (China&Russia) & Islamist Jihad terrorist forces (like Iran, the Muslim Brotherhood/Ikhwan, ISIS, Afghanistan, etc.)
Darkness in the face of the deep and at the end of Days
The God of eternity revealed to Moses what happened on the first day of recorded history:
And the earth was formless and empty, darkness was over the surface of the deep, and the Spirit of God was hovering over the waters. And God said, "Let there be light," and there was light. God saw that the light was good, and he separated the light from the darkness. God called the light "day," and the darkness he called "night," And there was evening, and there was morning - the first day. (Genesis 1:2-5).
We see a time and place where our dreams and visions become realities in the lives of people and in the sight of God through strengthening the FAMILY and the establishment of home Prayer Altars and foundations among them, this being the vision for which we PRAY, PURSUE and ASPIRE to see in our lifetime as we bring forth His Kingdom on earth as He promised through the Prophet Isaiah 11:12,16:
He will set up a BANNER FOR THE NATIONS (Africa Kneels?) And will ASSEMBLE the outcasts of Israel, And GATHER TOGETHER the dispersed of Judah from the four corners of the earth...There will be a HIGHWAY for the REMNANT of His people who will be left from Assyria, as it was for Israel in the day that he came up from the land of Egypt."
To God alone be the Glory, Honor and Praise.
In His abiding Shalom,
Bishop John and Mary A. Bulinda
Global Intercessory Generals Prayer Network
Washington, USA
REPENTANCE & PRAYER POINTS FOR KENYA
First REPENT for yourself, then for KENYA and then for the Rest of Africa - that many will heed the move of the Holy Spirit and confess that:
We have not always placed the Living God FIRST in our lives
We have not fully protected the most vulnerable, including children in the womb
We have created idols, including pride in ourselves, our agendas, our families, our financial status
We have sanctioned sexual perversions, instead of seeing them in His eyes as sinful and capable of being removed by the Holy Spirit
We have failed to follow His destiny for the citizens of our Nation to act as His city set on a hill, a light to the world.
Then PRAY for KENYA:
Pray that having confessed these personal and collective sins, many will also repent so that He will hear from heaven, forgive sins and heal our land.
Pray that intercessors from many nations will join in this Day and in future Days of Repentance, repenting themselves, and then praying as the Holy Spirit directs for Africa and all the Nations
Pray for the Upcoming Elections in Kenya - on August 9th, 2022 - that there will be

NO Post Elections Violence

anywhere, but it will be truly a God Appointed and Ordained Time for these elections, and that people will have peace towards and with the outcome, with no corruption or any other ungodly behavior during this time...
Photos and Feedback after the Kenya Kneels Conference
Feedback received from Ps Antony Muyeka...
Praise God for the Kenya kneels repentance and healing prayers that was held as from 30th June to 3rd July at our knew Life Covenant Church-Kakamega Maraba region near Cereals board.
We thank the Lord for answering our prayers and returning the nation of the world to Jehovah God of all creation and healing families in Jesus name.
For the first time we saw the meeting that was to take three days being extended by one day and going beyond the hours we had programmed hallelujah.
Many souls were saved and delivered from bondage and strongholds which is a fruit of repentance and this was achieved because of being obedient to the Almighty God.
For the first time in history we ate communion with our pastor Susan Hammer leading us from South Africa and after communion there was joy and jubilation hallelujah
The nation of the world are waiting to hear and see what the Lord is doing to prepare the church for the end time revival that coming to sweep the whole world through repentance and healing prayers and Africa kneels repentance is raising up a banner in the nation of the world.
You can read more in the comments section in the Welcome Post......
And below are some photos from the event, in no particular order...